Let's just get right to the point here: Dads are funny. Really funny. That's not to say moms are not (because you kind of have to have a sense of humor to not go crazy when parenting), but the Dad humor is just something else. And, dads are becoming more vocal about their lives as fathers by blogging about it. At Fathers Eve, that's something we can totally get behind.  

We don't just want to celebrate Dad's, but the Dad bloggers who are honest about fatherhood while being completely entertaining.  Because if we've learned one thing, it's that being honest about what it takes to be Dad is actually pretty entertaining and downright impressive.  
Case in Point: The Super Hero Dad Saves on YouTube.
Whether you're a first-time dad, single dad, granddad, stepdad, two dads, uncle dad, or in some way taking on the awesome and important role of "Dad" you're sure to find a blog that will help you navigate all things fatherhood.
So, before the kids begin pulling on that beard (which has got to be one of the most painful experiences for men) or poking out your eyeballs as a means to compete for your attention, let's get to the blogs we think you'll love.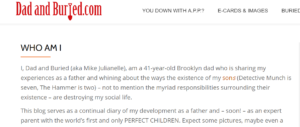 Manned by Brooklynite father Mike Julianelle, Dad and Buried is Mike's journaling of what the ever-changing world of fatherhood looks like to him. Mike is a father to two boys that he affectionately labels Detective Munch and The Hammer.
Makes us wonder (okay, we don't really wonder) why he named one "Hammer."  Boys: they are so exciting, yes?
In his blog entry titled "The Reasons Parents Are Always So Tired," Mike describes going on vacation with your kids as "a test of endurance." Mike continues to explain that the 12 hours of parenting is what exhausts you. The short bursts of exertion multiple times a day is what has you feeling like your running on an empty tank, even when you get eight hours of sleep.
Pretty sure all dads can relate to that. One minute it's peaceful and the kids are coloring; the next it's an all-out war in the dining room because Timmy over there took the orange crayon. You sit there wondering if they will work it out, and your worst fears are confirmed when Timmy yells, "This is Sparta!"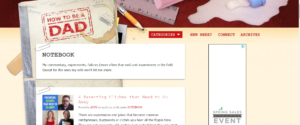 This blog gives you a one-two daddy punch. As coauthor Andy describes his blog, "it is less instruction manual more 'been there, did that, bought the tee shirt' type of anecdotes."
The blog is broken up into categories.
Most posts are short and sweet. Which is a bonus if you are like most parents: article commitment-phobe.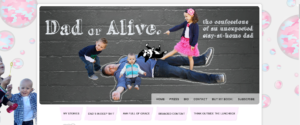 This blog is written by SAHD (stay at home dad) Adrian. You can follow along with Adrian and his family as he navigates through the life of a primary caretaker. Adrian shares stories of his family's everyday life and even some recipes.
Check it out: One of the best parts of Adrian's website is his "Dad's in Deep Sh!t" spot. Just go there; we promise you will enjoy.  
Adrian is a great storyteller; he also has a book published with the same title as his blog. It too is entertaining to read.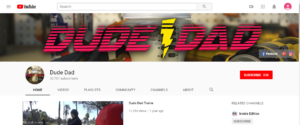 Dude Dad is a vlog, so you can enjoy this dad's observations in a visual format.
The dad behind Dude Dad is Taylor Calmus. Taylor started his vlog, Video+Blog=Vlog, just before his first child was born. He wanted to use his vlog to be a creative way to entertain others on his journey to fatherhood.
If you think that Tyler has a familiar looking face, then you just might have seen him a tome or two before. Tyler is a regular guest on "Jimmy Kimmel Live" in addition to having a role on ABC's "The Middle." But before all that, Tyler grew up riding BMX bikes in his home state of South Dakota.
Most of Dad Dude videos are nothing if not hilariously entertaining, like the "Dad Bod Workout." Others are just awesome, like the "Epic Hot Wheels Backyard Race Track" or the "Treehouse Timelapse."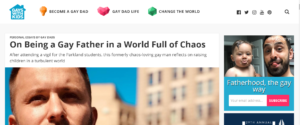 This blog is everything the title says it is: gay dads supporting one another and having a good laugh. It's hard enough being a dad in our world, but being a gay dad comes with a whole slew of hurdles and interesting experiences.  
To add to the fun and humor, there are some seriously inspiring and touching blog posts like, "This Gay Dad is Fighting the Example Set by His Abusive Father with Compassion." In fact, dads of all kinds will love this blog about fatherhood.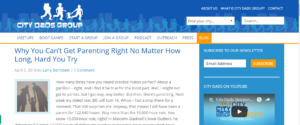 City Dad's Group is a blog dedicated to helping dads form a group of support for socializing, hosting meetups, and sharing insights and stories that other dads can relate too. City Dad's Group helps connect fathers in all stages of parenthood, whether your kids are in their twenties or are still in diapers, City Dad's Group has a group for you.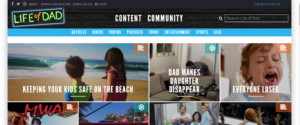 Life of Dad encompasses just that: the lives of dads. Its a community of content, so to speak, and offers videos, funny stories, and various sports and entertainment for dads. Life of Dad also has the Life of Dad show- with several episodes guaranteed to be relevant to dads and provide some comedic relief.

Dadliness offers podcasts centered on different parenting hurdles that all dads go through. With practical advice and subject matter, their podcast and blog are certain to be of use in your parenting "dad toolbelt."
All of these blogs and so many more are exactly what Fathers Eve is about. We are dads, all kinds of dads, who want to have a community around us to share the laughs, the cries (yes, men cry, too), the victories, the "am I doing it right" doubts, the losses, and the in-betweens.  
Being a father is not just amazing, but also at times lonely and full of doubt. That's why Fathers Eve is here, to be that community all fathers need.
Mark your Calendar for Fathers Eve!
Remember to mark your calendar for our yearly Event on the Eve of Fathers Day.  We have meetups all over the country where we grab a beer and hang out. That's it. No special schedule (we even ring in Fathers Day two hours early so you can get home and get some sleep) and no expectations. Just dads supporting each other and getting together.