Just six years ago, a Minnesota dad started a tradition that reached Fathers across the globe. What began as a small celebration the evening before Father's Day, John Francis never imagined would grab the attention it has or that it would help so many people.  
Fathers Eve is more than just a night for dads to celebrate fatherhood the day before Father's Day. It raises money to donate to charities that help dads in need. The event's festivities, such as food and drinks, donate the profits to organizations that give support and advocacy to fathers.
Fathers Eve is a fun event that supports dads of all kinds across the world with a good time and donations made to charities that support fathers in need.
What is Fathers Eve?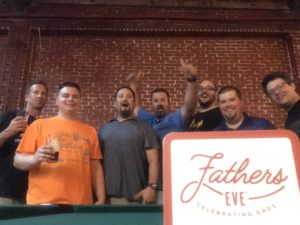 Fathers Eve began on the night before Father's Day in 2012 when John Francis had some fellow dads and friends over for a night of relaxation and fellowship. The event started as a few drinks, but a couple of games of pool in his garage led to the recognition of the night in 42 cities among three different countries. And it's still growing. Every year, more people hear about it and attend or plan their own. Each year brings more significant and better events, and with it, greater proceeds towards our mission.
In addition to being a guys night out, all Fathers Eve events donate their proceeds from things like games, food, and admission to charities who support dads. What kind of dads do we support? Those like single dads, helping at home dads, and others who need support and advocacy. It's a cause that deserves attention and dedication, and that's why Mr. Francis dedicates the proceeds from all events towards these nonprofit agencies.
Donations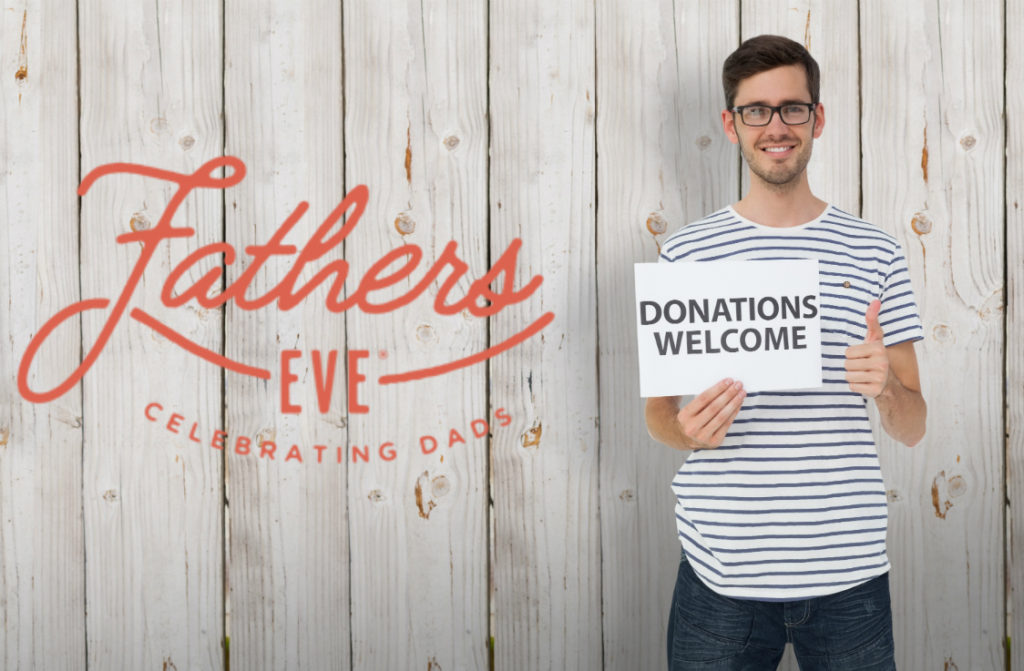 So far, Fathers Eve has raised over $27,000 in the past three years that have gone to nonprofit organizations to assist dads of all kinds in their needs. Mr. Francis hopes to continue to grow that number in future years and reach out to more organizations that can help. It's a cause that we believe in, and one that deserves to be recognized by numerous communities all over the world.
It's more than just a night to have fun and exchange stories. It's a night dedicated to assisting those who are struggling with hard times in their lives. Whether it be the death of a spouse, illness, or whatever other reason, Fathers Eve strives to help our fellow dads.  Fathers Eve donates to charities because, as fellow dads, we understand what it is like to struggle to take care of our families, and that having the right amount of advocacy and support can make it a little better.
Contributions Made Easy

There are numerous ways you can donate to the Father's Eve cause:
Attend an Event: Help out your fellow dad's this year by attending a Father's Eve event near you. Last year, the celebration spanned 42 cities in three different countries. Look

here

to find one closest to where you live and go ahead and get your tickets too. Celebrate a relaxing evening with the guys along with us. Enter to win a prize in a raffle drawing, eat some tasty food, play some games and, best of all, help out fellow fathers.  

Host Your Own: Can't find one near your town? That's okay. You can

host your own Father's Eve event

and start a tradition the men in your community will look forward to each year. Click the link above to begin your journey to hosting your first Father's Eve event. Due to a basic licensing agreement where Fathers Eve has to protect the trademark, we ask that you contact us before you get started.

Sponsor:

Fathers Eve welcomes sponsors

. We want brands like yours to advertise our mission and events. We also look forward to building relationships with local fathers through on-site and pre-event promotions. Considering the growth of events and sponsorships these past few years, we know that people love Fathers Eve. In 2017, we were part of a feature on NBC National News which generated over 60,000 views on Father's Day. This year, we're aiming to gain traction with over 100 markets, and yours could be one of them.
So, why does Fathers Eve donate to charities? To assist dads from all walks of life who may be struggling with something that calls for support and advocacy. While we don't give to fathers directly, charities ensure that the money goes into the right hands and use for the intended purpose. Show your support to fellow dads everywhere by attending, hosting, or sponsoring an event. Don't miss out on this year's fun and chance to contribute to a great cause.
We can't wait to see you there on June 16th. Don't forget our toast to dads everywhere at 8 pm and bring your daditude.