Every dad dreams of being his son's number one confidant; having a bond so strong that you could talk about anything and laugh until it hurts. When father and son share a strong bond, you exchange life lessons, positive self-esteem, and family values.
However, with hectic work schedules, social events, and you know…life, it can get extremely difficult to carve out one on one time for father-son activities.
You desperately want to bond, but might have limited time, resources, or ideas.
Have no fear, Dad! The truth is you CAN have the father-son relationship you dreamed of. To help, we have put together a list of seven father-son activities that can help build that deep bond you crave. These activities might be just what you guys need to build that connection.
Playing Catch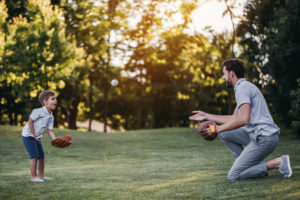 There is beauty in simplicity. Even just a simple game of catch between a father and a son or can create a bond. Playing catch with your "old man" allows kids to slow things down and reflect. If you are a huge baseball fan, taking the time to partake in this will help your son not only get better at baseball, but will show him that he is worthy of you sharing your passion with him. As you guys throw the ball, questions and answers will get thrown around as well, leading to a relaxed and honest conversation.
Camping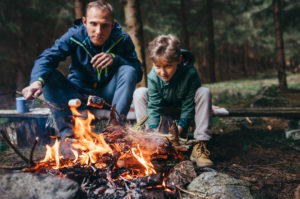 How better to get to know someone deeply than by spending time alone together out in the wilderness? Teach your son how to set up camp, light a fire, and survive the rugged outdoors. Here, under the bright stars, is the perfect place to share some of your favorite camping memories. Not only is it manly, it also means no WiFi and cell reception! Just good, old-fashioned conversation and father-son games. If camping is a family tradition, share that with him. Let him know what it has taught you about life. If it hasn't been, maybe now this is your opportunity to start.
Gaming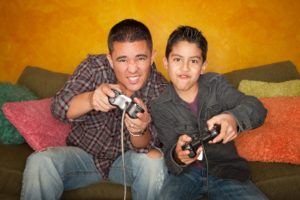 It's no big surprise that most boys (whatever the age) love to play video games. Gaming can actually bring you closer to your son instead of distracting him. It is a father and son activity that will allow you into "his world;" showing him you are interested in what he likes. If he is experienced in the video games you are playing, then he can feel that HE can teach YOU something for once. This will spark confidence in him and strengthen your bond. If they can spend hours on end talking with other gamers, wouldn't you rather it be with you?
Building Model Rockets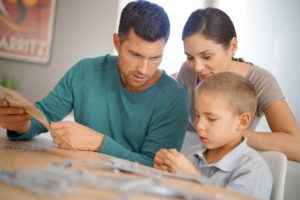 Explosions, loud noises, fire, and a hint of danger; all the making of a boy's dream activity. For decades kids have been fascinated with space, astronauts, and rockets. What then could be more entertaining than building a rocket? And not just any rocket, one that is lightning fast and can travel hundreds of feet in the air! It takes time and effort to successfully launch rockets, and doing this together can create great father and son bonds.
Not only will you guys be learning mathematics together, you will be teaching your son to create and problem-solve as a team. Bonding together will make launching that rocket that much sweeter.
Cooking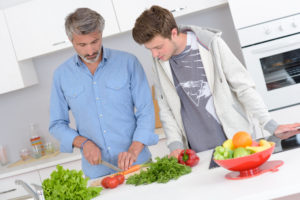 Doesn't matter who you are…we ALL like to eat. Why not make the "before" process as exciting as the eating part? What is cool about cooking is that there are so many different options. Maybe take some time and go to the store together, make a list of ingredients you need to make the meal you want. It can be extremely satisfying when you see others enjoying the food you created together. Whether you are cooking in the kitchen or grilling on the BBQ, making food together gives you time to create something from scratch and quickly see the fruits of your labor. And guess what dad? It is very convenient because you can do it pretty much any day of the week and you don't have to leave home!
Fishing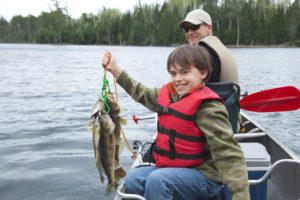 A boat, water, and fishing poles: Pretty much all you need to create a great bonding moment. Yes, fishing is great for creating conversation because in essence, it is a waiting game. You might be on the water all day, but the immense pride your son will have when he catches his first fish will make it all worth it. This is a father and son activity that teaches patience; a life skill that will help a son often in the future.
Go to an Amusement Park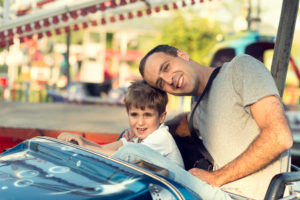 Remember how excited you were the night before going to an amusement park? It was like being able to escape to a place filled solely with fun, adrenaline, and more fun. The only thing that can make it more special would be to do it specifically as father-son activities, just the two of you.
You can go through many emotions while at an amusement park: excitement, fear, apprehension, pure joy. It can be a pretty powerful thing between a father and son to go through those emotions together. Being there for your son as he tries his luck on that rollercoaster he is nervous about is important; it can teach him to persevere even when you are scared.
There are countless ways to bond with your son. While it can be hard or overwhelming to find activities that you will both enjoy, we promise your efforts won't go unnoticed. Investing time to bond with your son can lead to closeness and honesty, and him learning life skills that will help him later on.
Meeting up with other dads in similar situations can also shed some light. Attending a Fathers EveⓇ event can give you the opportunity to laugh, reflect, and learn about father-son activities and the relationship between father and son. Contact us to find an event near you or how to host one in your neighborhood.