Fatherhood opens the floodgates to so many new, beautiful emotions. Emotions like unconditional love, joy, and happiness may take over your heart. Watching your child grow and thrive helps you see the world in a new, glorious light. But fatherhood can also bring a variety of other emotions such as financial stress, worry, and pressure to provide.
As a dad, you probably worry about how to make your child's life the best possible. Whether that means financial security, good parenting skills, or coming up with fun, educational activities, fatherhood brings an innate need to provide for your child. Although these feelings may manifest themselves differently from father to father, the worry about being a good dad is nearly universal.
Men can have these concerns even in the best of circumstances. But imagine the fear, anger, and anxiety if you are in the worst of circumstances. For those who are unemployed, underemployed, recently out of prison, or disadvantaged educationally, things can begin to look grim pretty quickly. That is where the FATHER (Fostering Actions To Help Earnings and Responsibility) Project of Minnesota comes in.
Children thrive when they have strong role models in their lives, especially fathers who are willing to spend time fulfilling their emotional and physical needs. Programs like the FATHER Project in Minnesota are amazing advocacy groups that provide the skills and help for a man to reach his full fatherhood potential.
Fathers EveⓇ is a proud partner of the FATHERS Project. Visit us to see our other partners that grow and improve our community.
The FATHER Project is a fatherhood program serving men ages 17 and older. Whether employed or unemployed, dads can use this group to realize their purpose and learn how to become the best dad they can be. The FATHER Project has five specific programs that assist men in breaking down barriers that prevent them from providing for their children emotionally, educationally or financially.
The FATHER Project Programs
How great is it that there are programs out there to help you become the best dad you can be? In a world that can put up barriers to your successes in fatherhood, some programs allow you to grow and thrive as you become a well-rounded father. The programs that are available in this dad advocacy group create long-lasting parenting skills, allowing for a secure, more stable environment for both father and child.
Parenting Skills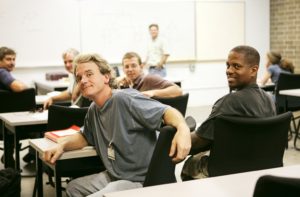 The FATHER Project offers parenting classes that equip fathers with practical skills. There is a wide variety of courses you can take. Within the classes, you receive support from fathers who are in similar circumstances to your own. These classes and the bonds formed in them are beneficial for building relationships with other fathers who have the same questions, struggles, and environments as you.
Case Management and Child Support Help
The FATHER Project provides caseworkers to help the men in this program navigate the legal aspects of fatherhood. From establishing paternity to navigating conversations about child support, case managers give a helping hand to these men so that they have an understanding of their situation and can take proactive steps from there.
Paternity questions and issues with child support can be frustrating and cause turmoil. With a third party helping out, you can rest a bit easier that it will all be resolved in the smoothest, most amicable way possible.
Fun Family Activities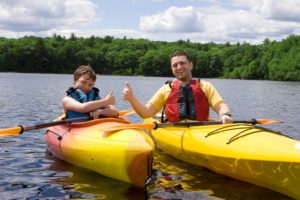 No matter what your circumstances are, where you come from, or what you do, anyone who wants to be a successful father knows that they have to have fun with their kids. Fun playtime activities are one of the primary ways to build and strengthen a relationship. For someone who is disadvantaged, struggling financially, or does not have resources and support, finding fun activities that you can do as a family might feel very stressful.
The FATHER Project helps these men to find activities that will create memories for their families and strengthen bonds. Not only can these activities strengthen the relationships between father and child, but many times they help to build stronger, more positive communication between fathers and mothers. And whenever dads and moms can have positive interactions, the children enjoy better outcomes.
Finding Employment
The staff at the FATHER Project offers comprehensive employment services, from building a resume to supporting the job search. Men that go through this program develop better interview and communication skills that are essential for getting a job and working towards financial independence and stability.
Many times, newly-enrolled dads in this program join during a time of unemployment but leave with jobs that provide them and their children some security. Being able to provide financially checks off one big box when it comes to a father's worries.
GED Tutoring
One of the most important and foundational parts of The FATHER Project is to make sure that all of the men that go through the program have at least a high school diploma or GED. Getting a GED will provide opportunities for financial independence as it makes men more marketable in a job search. The FATHER Project offers 1-on-1 tutoring with experienced volunteer tutors. The program also pays for all of the testing expenses. This is a fantastic benefit because the fees can be expensive and deter people from taking the test in the first place. In addition, if you show that you are a committed individual, the program will even pay for the bus fare that you use while going to tutoring. This program is specific to the Twin Cities area, but there are plans to replicate it in other cities because of its huge success.
Have Fathers EveⓇ help you!
Fatherhood is already hard enough to navigate without having to deal with financial and societal barriers. Leveling the playing field for these gentlemen helps brighten their future and allows them to provide for their families financially and emotionally.
Visit Fathers Eve to learn more about this group and others like it that celebrate fatherhood and everything that comes with it. Dad meetups are held all over the country to get dads connected and supported. Stop by at www.fatherseve.com to find out how to reach out to other dads. Nothing is more beautiful than a strong relationship between father and child.