Cincinnati, Ohio is an incredible city with a rich history. Did you know that Neil Armstrong, the first man to walk on the moon was from Cincinnati? Or that in 1869, the Cincinnati Red Stockings, later The Reds, was the first professional baseball team with only ten players? The reason The Reds open every season at home is that they are the oldest team in baseball.
Cincinnati is a diverse city that offers so much for its residents and visitors. Whether you are looking for fun outdoor events or a night on the town, you will find it all in Cincinnati.
Living in such a unique city brings many opportunities. In particular, Cincinnati is an excellent place to be a dad and raise a family. Fathers Eve knows that while being a father is a fantastic job, it's a team sport. We want to partner with all dads and connect them with each other.
Fathers Eve in Cincinnati
One of the main goals of Fathers Eve is helping dads find ways to engage and connect as a group. A support system is vital for fathers to be the best dads they can be. Having a friend you can call for advice, support, or hang out with can make a big difference.
Last year, on the night before Father's Day, a fantastic group of dads got together to celebrate Fathers Eve. The goal of this event was to celebrate fatherhood as a community of dads. There was laughing, food, and sharing of fatherhood war stories.
More than just providing a connection, a Fathers Eve event is fun!  Last year's event included cornhole, polish horses, and tailgate Jenga. Dads brought something to throw on the grill and enjoyed a great meal together. The night turned out to be an exciting get-together for all the fathers who were able to come.
We are looking forward to Fathers Eve 2019 since many dads forged relationships last year that still run strong today.
Being a Dad in Cincinnati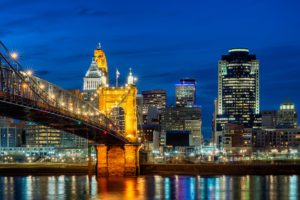 If you are a dad in Cincinnati, you don't have to wait until the night before Father's Day to have fun If you are looking for some cool things to do throughout the year, there is no shortage of activities in Cincinnati.
For an educational and entertaining activity you can do any day check out The Duke Energy Children's Museum at the Cincinnati Museum Center. With seven unique exhibits aimed for children and families, you can have an excellent outing with your kids any day of the week.
Burn off some energy inside a vast maze that is also a machine. Or learn about oral health inside a giant mouth. There is an interactive lab, a kid-sized neighborhood, a forest adventure, and even a safe place for toddlers to explore.
The Newport Aquarium is open 365 days a year. It is conveniently located minutes from Downtown at Newport on the Levee. You do not want to miss out on this incredible resource in our great city.
At the aquarium, you and your kids will see an array of animals from all over the world. There is so much to see, and even more to do. You and your kids will get the chance to pet a shark or spend some time with a penguin.
Another great place to take your kids is Washington Park. Not only is this park large and beautiful, perfect for an afternoon playing with kids, but events also happen year-round. There is a playground and a dog park that are open daily. So load up the kids, and Fido if you want, grab a glove and ball and head to the park.
For ideas of things to do specifically with your son that will build a robust lifelong relationship, check out our blog. As a bonus, you can invite other dads and their sons to many of these activities. You can do more than bond with your own son. You can build friendships for you and your son.
Invite Friends
Being a dad is hard. It is a never-ending job that often comes on top of a full-time job outside the home. Having a support system is helpful. Not only can a group of friends be a social group to hang out with, but they can also build you up and encourage you when things get hard.
Let's be real, though. It is hard for many men to make friends easily. While most men are fine being friendly at work and in casual social settings, many say they don't need close friends. If you fall into this camp, you might want to reconsider. A thriving social group is a fantastic asset.
Look for friends everywhere. You might become friends with a guy who has children at your kids' school. Or maybe your kids play on a sports team together. Perhaps you might meet another dad at the playground while your kids are playing.
Wherever you find friends, you will be thankful to have a group you can turn to when parenting gets laborious. Other dads will be a sounding board for you. They will bring their kids to play with yours, taking much of the pressure off of you to entertain them.
Join Fathers Eve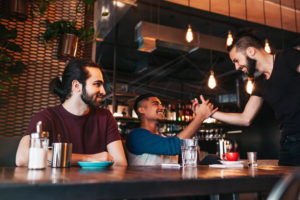 The best place to meet other dads is at a Fathers Eve event. Fathers Eve strives to celebrate every dad out there, regardless of how that looks for you. You might be a stepfather, grandfather, or father-to-be. Or perhaps you are in a father-figure role for someone special.
The primary goal of Fathers Eve is to celebrate the Brotherhood of Fatherhood. Events happen across the country and allow all dads to unite under the common cause of being a dad. From movies to golfing to pick-up games of basketball, dads around Cincinnati and the country enjoy a great evening together.
Father's Day is about celebrating with your kids. Fathers Eve is about celebrating with other dads and building relationships. You won't regret developing friendships that you can turn to throughout the year.