What happens in Vegas stays in Vegas, right? At least that is how the saying goes. But there is more to Vegas than a cheeky saying.
If you are a dad in the Las Vegas area, you know you live in a fun city. While not often thought of as the most family-friendly town by outsiders, people who live in Vegas know it is a great place to raise a family.
Las Vegas is an incredible city with so much to offer. Beyond the strip, there are family-friendly activities and events, outdoor adventures, and more.
If you are a dad looking to meet other dads in Las Vegas, a great event to check out is Fathers EveⓇ. On the night before Father's Day, dads from all over the city will get together to celebrate being a dad.
Outdoor Activities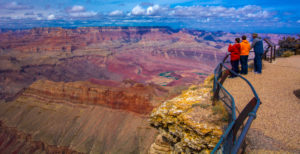 One of the biggest attractions in the general area of Las Vegas is the Grand Canyon. People come from all around the world to experience this natural wonder. Living in Las Vegas, the Grand Canyon is basically in your backyard.
There are many ways to see the Grand Canyon. One option is to hop in the car with your kiddos and make the couple hour round trip. Not only will you create memories to last your kids for a lifetime, but you will also save money and have a great time.
If you want to take it up a notch, there is a variety of tours you can book. You can see the big hole from the air, from the ground, or from inside the canyon. Whatever you choose, you won't regret the incredible family time you will have together.
A little closer to Las Vegas is Hoover Dam. Not only is the Hoover Dam impressive, but it is also educational. Learn about history and science as you enjoy the views of the Black Canyon.
Another remarkable outing if your family enjoys being active is to head out to the Red Rock Canyon. There are organized tours through the canyon, or you can go on your own. There are beautiful views and trails through the Calico Hills and Willow Springs.
If you're looking to stay in Vegas, there are over 100 parks around the city to enjoy. Sunset Regional Park is the largest and arguably the best park in town. Within the park, you will find softball and little league fields, five playgrounds, numerous basketball courts, sand volleyball courts,  plenty of tennis courts, miles of walking paths, and a fitness course. The park also boasts a splash pad, pond, dog park, and disc golf course.
You and your family will never be bored at Sunset Regional Park. Invite a friend or two to bring their kids and make a day of it.
It is no secret that Vegas is hot in the summer. Load up the kids, pack some sunscreen and towels and head to a splash pad to cool off. While there are several around the city, a favorite of many families is the one at Reunion Trails Park. Parents love the size and that it accommodates kids of all ages.
Las Vegas Attractions
Of course in Las Vegas, there are many things to do on the strip and throughout the city. There are shows, activities, and events. If you haven't explored the city with your kids and family, you are missing out.
If you want to play tourist in Las Vegas, several shows are family friendly. And since you live here, you can also be flexible on when you hit the strip, allowing you to find a cheaper ticket.
Most kids love animals and are fascinated when they can come face-to-face with them. Siegfried & Roy's Secret Garden and Dolphin Habitat is an exciting adventure for kids of all ages. You will see white lions, tigers, leopards, and other big cats in an enchanting habitat. There is also a pool of friendly bottlenose dolphins to learn about and observe. It will be a mesmerizing trip your kids will not soon forget.
If your kids prefer something a little more scary from the ocean, The Shark Reef Aquarium at Mandalay Bay should fit the bill. Your kids will get up close and personal with these sharks in an underwater experience. There are fourteen exhibits with more than 2,000 different animals. There are even interactive exhibits. Check out this incredible experience for yourself.
If you have older kids, the Tournament of Kings Dinner and Show is an exciting night out. Your family will experience the Middle Ages and see a live reenactment of a traditional tournament of kings. Plus, there will be a feast only a king could order. Enjoy singing, dancing, and entertainment throughout the evening.
Fathers Eve

Everyone knows what Father's Day is. As a dad, you probably look forward to it all year. Whether you make it a day all about you and your kids, or it's your chance to have a day all to yourself, Father's Day is all about you.
However, the night before is Fathers Eve. This evening is a chance for you to get together with other dads in your area and celebrate all that it means to be a dad. Whether you are hanging out with old friends or meeting new ones, it will be an incredible night.
Last year, Fathers Eve was a fantastic night where men from all over the city gathered at a tavern. There was eating, drinking, laughing, and even giveaways.
Many of the dads who met at Fathers Eve last year are still friends today. Not only did these dads gain a confidante, but they also gained a friend for outings, an outlet to vent to, and someone to grab a beer with on a local Thirsty Thursday night.
Fathers Eve is happening in Las Vegas again this year. On June 15th, invite a friend, or multiple friends, and make plans to celebrate being a dad together sign-up here. It will be hosted by City Dads Group, and specifically the Vegas Dad Group a great way to connect with fathers year round. Not only will you have fun on your night out, but you will also meet friends and be encouraged. You deserve Fathers Eve.